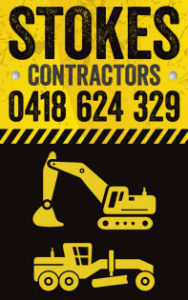 Stokes Contractors
We are a family owned and operated civil construction and earthmoving company based at Sutton, NSW, 15 minutes north of Canberra.
  PHONE:

Mobile:  0418 624 329
  EMAIL:

Email:
  LOCATION:

Sutton, NSW, 2620, Australia
Why Choose Us


40 YEARS EXPERIENCE
With 40 years experience in the small and large civil construction industry, we have been based in Sutton for the last 18 years.



MILLIONS OF PUBLIC LIABILITY COVER
We carry $20 million public liability cover for your protection.



QUOTATIONS
We offer free, no obligation quotations.
Services We Provide
We specialise in providing sub-division roadworks and excavation as well as general road construction and maintenance services to rural and semi-rural areas and villages in the ACT and surrounding regions:
Machinery & Equipment
We provide an extensive range of machinery and equipment to handle any project from surveying through excavation, materials haulage, grading and compaction, to landscaping and planting.
See gallery below for images and specifications
Subdivisions - Road construction including drainage etc..  We can also perform total construction if required including design and installation of electrical and communication conduits and services
Roads - Construction, upgrading and maintenance for rural properties, with various surfaces such as decomposed granite, recycled asphalt, road-base 0r bitumen sealed surfaces
Excavation - All excavation works, including house and shed site excavation and slab preparation, water tank and septic tank site preparation
Horse/Equestrian arenas - excavation and compaction, surface supply and installation, sand or rubber chip, fencing
Tennis courts - Full construction including fencing and nets with clay, synthetic grass or rubberised surfaces
Land clearance - Tree and stump removal, scrub clearance such as tree, blackberry, tee tree, re-growth etc..using low impact equipment, tree line ripping and planter hole excavation or boring
Joint Venture arrangements considered
Project Design - Full project design and project management services.
Dams - Farm/Rural property Dam construction and maintenance
Testimonials
"I was very satisfied with the construction of a 300m drive by Nick Stokes. It was not a straightforward job, but Nick succeeded in creating the contours and run-offs needed to achieve a very successful outcome."
— Geoff Dixon (Gundaroo)
Contact Us If You Have A Question Or Request An Obligation Free Quote